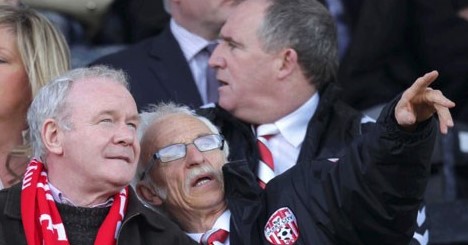 Sports at an early age
Growing up, Martin McGuinness played Gaelic football, soccer and hurling alongside his brothers Tom and Paul. Admittedly, they did better at sports than he did but he was able to hold his own when playing keeper and eventually won the double with Arntz Belting Company in Derry.
Aside from playing sports, he also had an interest in cheering on sports teams during his free time. His love for Manchester United started at the tender age of eight, around the time of the Munich Air Crash. Seeing the loss surrounding the crash as well as the solidarity which the team showed, he instantly felt a connection to the team members and joined many other people who felt similarly. He also showed support for Derry City and Derry GAA teams.
Heroes in the sports world
When it came to sports heroes, Martin McGuinness adored Derry GAA captain Henry Downey, so much so that he had a portrait of the sports figure holding the Sam Maguire trophy in 1993 in his office as deputy first minister. Other players whom he held dear to his heart included Harry Gregg, Lev Yashin, and George Best.
The long-standing tradition where people from Ireland went on to play for big teams such as Manchester United pleased him. Players such as James McClean and Darron Gibson are some of the names that came to his mind when thinking of international milestones in football.
He loved watching James McClean in his element. James had initially played for Derry City before making a move to Sunderland where he continued to excel in his career. It was tough for a young man to make it to the first team in Sunderland. At first, James was under Steve Bruce and did not have much of a chance to play for the first team. However, with time he was able to do so under Martin O'Neill.
Martin McGuinness felt that such strides in a career showed that James had a lot of zeal and a very ambitious character, qualities that he admired in the sportsman. He also praised Martin O'Neill for his skills.
James McClean had come under fire at some point for having declared for the Republic as opposed to Northern Ireland. On this issue, Martin felt that the young man had gotten unfair treatment. Such choices, Martin insisted, should lie with an individual and no political forces should intervene in such matters. Given the belief by players that teams affect the growth of their careers, he felt that fans should support the sportsmen no matter what direction they choose.
An All-Ireland team was a thing that many people were advocating for at the time. Martin did agree that the odds of winning would be better with one sports team as opposed to two separate groups but was quick to add that this reasoning did not have its basis on political factors.
Rugby
An avid supporter of Ulster, Martin was always in wait for the team to bring home the trophy. He likened the finals to the Champions League in Soccer and loved it when Ulster went head to head with other great rugby teams such as Leinster. Martin prided himself as having brought Ulster luck back in 1999 when they played against Colomiers. It was the first rugby match he had attended, and it became the first of many to follow. He believes that his presence enabled the team to clinch a win.

The Olympics
Though the Olympics were facing many scandals at the time, Martin still had a deep love for the events and believed that many athletes were riding on their abilities as opposed to drugs. He especially loved it when doping athletes got caught and disqualified.
Given a chance, Martin would have liked to take Shay Given's position in the European Championships. He was indeed a man deeply immersed in the world of sports.